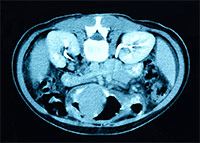 Philip Prichard sought out oncologist Nizar M. Tannir at Houston's MD Anderson Cancer Center in February 2013 with a massive 8-inch, 3.5 pound tumor and just months to live. Despite a previous surgery and other therapies, Prichard's renal cell cancer had spread to his liver and lungs.
The last hope?
A clinical trial run by Tannir utilizing immunotherapy – the body's own immune system – to fight cancer cells. The immune-oncology drugs were hoped to enable Prichard's immune system, specifically his T-cells, recognize and destroy cancer cells that would have previously escaped detection.
The results?
Two weeks after the first treatment, Prichard's fever, pain, night sweats, weight loss and anemia were relieved. After eight weeks and four infusions, the tumor shrunk approximately 50-60%. After two years, Prichard is so healthy Tannir must now decide if it's time to stop Prichard's treatments.
The immuno-oncology breakthrough?
Highly expensive, but effective drugs including ipilimumab, nivolumab and pembrolizumab that have been approved by the FDA for immuno-oncology. Though they are not a one-size-fits all option, talk at the American Society of Clinical Oncology annual conference in Chicago is expected to be dominated by these immuno­therapies.
The trickle-down effect?
Dozens of studies are now underway seeking to expand on recent successes, and widen the scope of treatable cancers to include bladder, breast, Hodgkin's lymphoma, head and neck tumors, and more. The immunotherapy drugs are also being tested in varying combinations with each other and other therapies. Early results look promising.
Today, immuno-oncology is being hailed as the fourth pillar of cancer treatment. Are you taking advantage of its miraculous results? Get your hope and your life back – contact Issels® the experienced cancer immunotherapy expert today!