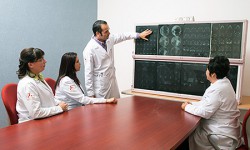 Who could testify to the benefits of immunotherapy with more credibility than an actual patient? Philip Pritchard of Memphis was diagnosed with renal cell cancer. Thanks to treatment with immunotherapy drug nivolumab, Pritchard has seen all traces of the disease virtually disappear.
Pritchard's battle with cancer
Even after undergoing surgery and other treatments, Pritchard's cancer had metastasized to his liver and lungs. An eight-inch, three-and-a-half pound tumor had been removed from his kidney. Pritchard had only months to live when he came under the care of oncologist Nizar M. Tannir at MD Anderson Cancer Center in Houston.
Implementation of immunotherapy
Pritchard became one of the patients in Tannir's clinical trial of nivolumab. The first signs came within two weeks, when Pritchard stopped suffering from  the cancer's side effects like pain, night sweats and anemia. Four infusions over eight weeks led to a 50-60 percent reduction in the size of the main tumor.
That was in early 2013. Today, two years later, 50-year-old Pritchard has regained his health to such an extent that Tannir is considering the end of medication.
How do these immunotherapy drugs work?
Cancer cells have an innate ability to avoid the body's T-cells, which are sent out by the immune system to attack foreign elements. Nivolumab and the other immunotherapy drugs are "checkpoint inhibitors" that remove the "brakes" keeping T-cells from doing their job.
Our Center for Immuno-Oncology creates a personalized therapy protocol using information about your genetics, lifestyle and environment. We work with patients diagnosed with all types and stages of cancer. Contact us today to learn more about our comprehensive treatment programs.