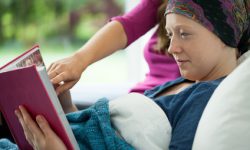 No matter how strong you are, there is nothing that can truly prepare you for a diagnosis of cancer. Once it's happened, creating a plan of action helps you maintain a positive frame of mind that's very important for your cancer care.
Here are five valuable tips for activities that reduce the mental and emotional upheaval and allow you to cope with your cancer diagnosis proactively.
Gather as much information as you can.
Knowledge is power, and the more you educate yourself, the less helpless you will feel. If you would rather leave the decisions to your healthcare team, get whatever answers you need to feel comfortable about your cancer care.
Explore support groups.
A cancer diagnosis can create a profound sense of loneliness. Alleviate the feeling by spending time among others who have been there before and understand your emotions. If necessary, check out a few different groups to find one where you feel comfortable.
Reassess your priorities.
Spend time with people you care most about and participate in activities that give you the most satisfaction. This is where you will gain much of the emotional and spiritual sustenance to see you through.
Take care of yourself physically.
Make sure you are getting enough rest and are following a healthy diet.
Maintain your normal lifestyle as much as possible.
Consistency is comforting, but don't be afraid to alter your routine when it's beneficial.
Cutting-edge, non-toxic immunotherapy treatments are part of the effective cancer care programs at Issels®. Visit our website to learn more about our state-of-the-art cancer vaccines and other protocols.