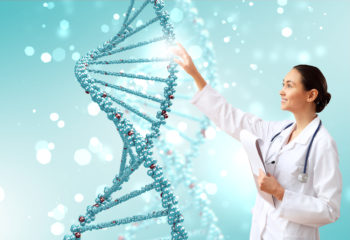 Identification of Breast Cancer genetic mutations was a breakthrough for scientists working on cancer testing and treatment. Recent findings show that a new form of cancer treatment can effectively extend progression-free survival in patients with BRCA-related tumors.
PARP Inhibitors and BRCA-Related Cancers
PARP inhibitors make up a new class of cancer drugs that have been used primarily in a narrow application for women with ovarian and related forms of cancer. As presented at the European Society of Medical Oncology (ESMO) in Madrid last September, recent trial results open up possibilities of other uses.
The ARIEL-3 trial, sponsored by Clovis Oncology, involved 564 patients who received randomized doses of a placebo or Rubraca, a PARP inhibitor manufactured by Clovis. Rubraca was found to help women who had ovarian cancer both with and without BRCA mutations.
While Rubraca's greatest effectiveness was in cases involving BRCA mutations, it also had a positive effect on some with other markers of impaired DNA repair. This condition is referred to as genomic scarring or BRCA-ness, related to a deficiency in homologous recombination repair (HRD).
Future Uses of PARP Inhibitors
Rubraca is currently approved in the U.S. for treatment of advanced BRCA-positive ovarian cancer. Based on the trial results, Clovis has applied for FDA approval of broader applications of Rubraca, including maintenance treatment. Researchers are hopeful that benefits will eventually extend to breast, pancreatic and prostate cancer.
Gene-Targeted Cancer Treatment Programs at Issels®
Gene-targeted therapies focus on blocking replication and growth of cancer cells, reducing risk to healthy cells. Contact us to learn more about cancer vaccines and other non-toxic cancer treatment programs at Issels®.