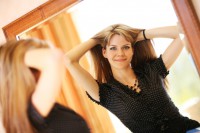 One of the challenges cancer patients face is maintaining a positive outlook on life. How we view the world is strongly connected to how we view ourselves. If you feel good about yourself, that positive feeling colors everything in your life. You feel comfortable in your own skin and confident that you can meet the day's challenges with success.
There's a strong connection between self-esteem and physical appearance. When cancer and cancer treatments strip you of energy, appetite and even your hair, it's hard to feel beautiful which can send your self-esteem plummeting. You know how low you feel when you have a bad hair day. Well, every day is a bad hair day for cancer patients — and loss of hair is just part of the problem. Cancer and cancer treatments can turn skin sallow and pale or make it blotchy and more prone to blemishes. Fatigue can leave dark circles under the eyes, and pain can make the face look pinched.  When chemotherapy causes hair and eyebrows to fall out, the face can look blank and undefined.
To counter the loss of beauty and boost the self-esteem of cancer patients, Look Good Feel Better was founded to support and encourage cancer patients to rediscover their natural beauty. Sponsored by the Personal Care Products Foundation in collaboration with the American Cancer Society, Professional Beauty Association and National Cosmetology Association, the program sponsors beauty makeovers and esteem-building workshops through local cancer organizations. It also offers an online library of beauty tips for women and men designed to show cancer patients how to minimize the effects of cancer on their appearance.