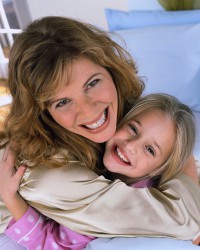 When you are a mother, receiving a cancer diagnosis is magnified by the effect it will have on your children and the possibility that cancer may take you from your children before either of you are ready to let go. Cancer is no longer the death warrant it once was. Great strides have been made in treating and arresting cancer. There is real cause for hope even when a terminal diagnosis is received or standard treatments fail.
Issels Integrative Oncology Centers in Santa Barbara, California and Tijuana, Mexico have had considerable success using advanced science-based alternative cancer treatments to achieve long-term cancer remissions in patients who had been considered "incurable." (Click here to here Issels' patients share their cancer stories.) But despite the very real possibility of remission, cancer outcomes are often unpredictable. Many mothers understandably choose to prepare for the worst while striving and hoping for the best.
The highly acclaimed little pink book When Mom's Cancer Doesn't Go Away: Helping children Cope with Loss and Beyond by Maryann Makekau, author, inspirational speaker and founder of Hope Matters, tackles the issue of loss with honesty and optimism. Written from the perspective of a child, it offers suggestions for creating memories of mom, or "momeries," to help children grieve and heal.
Memories help us keep our loved ones alive in our hearts. You don't have to face a terminal cancer diagnosis to find value in creating and compiling family memories. Even if you live to a ripe old age, your children, grandchildren and future generations will cherish the memories you leave behind.