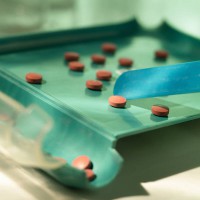 Many doctors already recommend taking an aspirin a day to decrease the risk of stroke and heart attack, but recent cancer news indicates that swallowing an aspirin a day may also decrease certain types of cancer risk.
Cutting Cancer Risk
British researchers at the Wolfson Institute of Preventive Medicine in London have found strong evidence that people age 50 to 65 could cut their risk of contracting colon, esophageal and stomach cancers by taking one baby aspirin (75 to 81 milligrams) a day for 10 years.
"Taking aspirin daily looks to be the most important thing we can do to reduce cancer after stopping smoking and reducing obesity," one British researcher told USA Today.
Beware of Side Effects
However, both study researchers and other cancer experts recommend talking to your doctor before beginning a preventative aspirin regimen. Aspirin can cause gastrointestinal bleeding and may cause other adverse and potentially dangerous side effects, particularly when taken with certain other drugs such as blood thinners.
Also of concern, a study reported by Newser.com found that long-term aspirin therapy "may be a factor in macular degeneration," an age-related eye disease that can result in eventual blindness. Due to the increased risk of aspirin-related bleeding with age, British researchers generally recommended halting daily aspirin therapy after 10 years.
Benefits Outweigh Side Effects
"There was clear evidence that the benefits vastly outweigh the side effects," study leader Dr. Jack Cuzick told the New York Times.
While cancer news shows support for use of long-term aspirin therapy to prevent cancer growing, questions remain. We recommend talking to your Issels cancer treatment team to see if aspirin therapy is right for you.