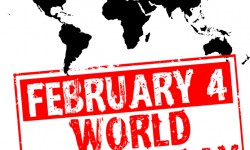 Some catastrophic events cast dark shadows long before they occur. A cancer diagnosis frequently comes like a thunderbolt on a cloudless day. It can strike any person of any station in life and at any age. At Issels® Integrative Immuno-Oncology, we have more than 60 years experience successfully treating cancer patients. Join with us by participating in World Cancer Day 2015 as we celebrate cancer treatment  successes, continue striving for further advancements in research, and educate others on the importance of healthy living and early cancer detection.
Not beyond us
This year's tag line reminds us all that cancer is "not beyond us" and that we should remain vigilant in our fight against this deadly disease. In the United States, cancer is second only to cardiovascular disease as the leading cause of deaths. According to the American Association for Cancer Research (AACR), more than 50 percent of the cancer related deaths that will occur this year could have been prevented. Tobacco use is the leading cause.
What can you do?
The earlier in life you adopt a healthy lifestyle, the lower your risk of developing cancer. Protect yourself from this and other non communicable diseases by not using any form of tobacco, keeping any alcohol consumption to a minimum, maintaining a healthy diet, and getting plenty of exercise. The financial and emotional toll of treating cancer far outweighs the effort and investment required to implement preventive behaviors into your life.
To stay updated on the latest cancer screening methods and to learn more about our non-toxic immunotherapy treatments, visit the Issels® Integrative Immuno-Oncology website and sign up for our free e-Newsletter.