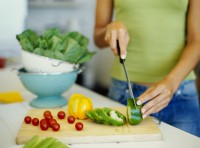 A diet rich in fruits and vegetables can reduce your chances of developing cancer. It's also beneficial in boosting your immune system if you do receive a cancer diagnosis. Studies have found that eggplant is full of nutrients and substances that specifically fight cancer.
A nutritional powerhouse
While eggplant is a staple in many Eastern cuisines, it's not used often in America. Eggplant is related to the tomato, and as such is actually a fruit, not a vegetable. It comes from a variety of nightshade, which is why it was considered poisonous at one time.
Nutrients found in eggplant include vitamins K, B and C along with potassium and copper. Thanks to its rich, deep-purple skin, eggplant is loaded with antioxidants and anthocyanins which block the activity of free radicals that can cause cancer.
Eggplant is put to the test
A study published in the International Journal of Clinical Medicine examined the effects of applying eggplant extract cream in two cases of 60-year-old men suffering from basal cell or squamous cell carcinoma. In the first case, breakdown of the tumor after only two weeks reduced lesion sizes by half. The second case resulted in normal tissue replacing some of the cancerous tissue after six weeks. After another three weeks, tissue was completely normal and the lesion much smaller.
The extract penetrates more deeply through the skin, so eating eggplant may not produce the same results. But its nutritional profile still makes it a worthwhile addition to your diet.
We stay up-to-date on all the latest developments in cancer treatments. Subscribe to our newsletter to have news and tips such as this delivered to your inbox.