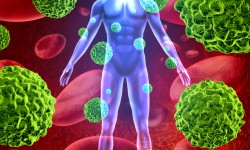 When 36-year-old real estate agent Sue Scott's cervical cancer was found to have not only returned, but spread to her lymph nodes just a few short months after she believed it was beaten, Scott put on her boxing gloves and turned to immunotherapy.
Limited options
Having previously received the maximum amount of radiation possible in her lifetime and with chemo unable to prevail against Sue's metastatic cervical cancer, she turned to the surgeon who previously treated her mother's uterine cancer with a hysterectomy.
An experimental approach
Following in the footsteps of her mother, Sue also underwent a hysterectomy, as well as the removal of cancerous lymph nodes and organs. The surgeon then proceeded to tell her about an immunotherapy trial at the NIH Clinical Center in Bethesda that could give her a chance.
Immunotherapy at work
In immunotherapy, the patient's own immune system is used to attack tumors, offering hope to metastatic cancer sufferers who have little left in the way of treatment options. There are multiple forms of immunotherapy available. Sue's treatment involved T-cell therapy in which tumor-fighting immune cells are isolated, grown in a lab, and then re-infused into the body. The tumor is then removed and a regimen of intense chemo follows.
Promising results
A month after the conclusion of Sue's treatment, CT scans revealed significant shrinkage to the 7 tumors throughout her body. Two months following treatment she was cancer-free, and appears to be in remission nearly three years to the day of her diagnosis.
Are you looking for alternative cancer treatments that give you the chance at the same promising results Sue experienced? Contact Issels® today to learn more.