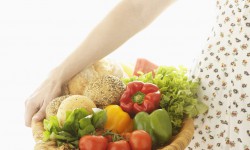 A study by Dr. Rowan Chlebowski, a medical oncologist at Harbor-UCLA Medical Center's Los Angeles Biomedical Research Institute, shows that some women diagnosed with breast cancer who maintain a low-fat diet may reduce their risk of early death.
Research for women in the early stages of breast cancer specific to estrogen receptor-negative (ER-negative) cancer showed positive results. For this group, Dr. Chlebowski's study showed a reduced risk of death factor of 36 percent over a 15-year study for patients who maintained a diet of low-fat food for five years after being diagnosed.
For women diagnosed with both ER-negative and progesterone-receptor negative (PR-negative) cancer, the results were even higher. Following the same five year low-fat diet regimen after initial diagnosis, patients experienced a 56 percent reduction in risk of death due to any cause.
The study included over 2,400 women ranging in age from 48 to 79 in the early stages of breast cancer. Of the 2,400 women, approximately 1,600 were diagnosed with ER-positive cancer while the remaining 800 were diagnosed with ER-negative or both ER and PR-negative cancer.
During the study, low-fat diets for half of the women was a requirement. Unannounced checks were made throughout the study. The other group was not required to maintain a low-fat diet. The study showed a lower death rate in the low-fat diet research group.
The study is the first where a low-fat diet over an extended period for cancer patients has been researched.
For information about how integrative immuno-oncology works in the treatment of breast cancer, contact Issels®. Established in 1951, Issels® has made a name for itself internationally for its success in the long-term remission of advanced tumors.