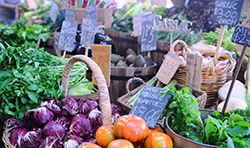 Living healthy. This is something we see, hear, and read about on a daily basis. For many, healthy living is a choice, for many others, it's necessary due to health issues. Either way, living a healthy lifestyle is a positive goal to focus on. At Issels ®, we focus on providing you with the help and support you need to live healthy including nutritional tips for cancer patients.
Another word you might have heard in the world of health is "probiotics." These friendly bacteria and yeasts are good for the digestive system. They're found in the digestive system and in certain foods such as yogurt, honey, cheese, oats, and pickles. There are also over-the-counter supplements for these friendly bacteria.
Benefits of probiotics include:
When your body loses bacteria, probiotics serve as a replacement
Probiotics keep bad bacteria that can lead to infections at low levels
Probiotics work as a monitor to keep good bacteria and bad bacteria balanced
For patients who are going through cancer treatment as well those who have completed treatment, studies show certain probiotic strains help reduce issues of diarrhea due to radiation treatment.
According to an article by Vanessa Wada, MS, RD, studies indicate,"these organisms have demonstrated their potential in minimizing cancer treatment side effects and reducing cancer risk." That is encouraging.
Her report also notes liver cancer may also be affected by probiotics as well as breast cancer and bladder cancer. As positive research continues into the healthy effects of the bacteria, Dr. Wada suggests adding probiotics to the diet.
If you have questions or need information, contact our staff at Issels in the USA, Canada or abroad by phone. Or use our convenient online form and we'll respond to your email.