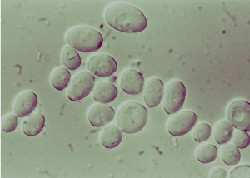 Cancer treatment research often focuses on destroying the defenses that prevent the immune system from attacking tumor cells. A promising new immunotherapy drug works by disabling one of these protective enzymes.
Disabling Cancer's Protective Shield
IDO is an enzyme that shields a fetus from the mother's immune system, which would perceive the fetus as an infection. During the early 2000s, researchers in Belgium discovered that tumors also express IDO, depriving T-cells of tryptophan, an amino acid that fuels T-cells.
Incyte, a small firm in Wilmington, Delaware, was the first to develop epacadostat, a drug that suppresses production of IDO. The company presented their findings, including results of the first meaningful trial in treating lung cancer, at last June's meeting of the American Society of Clinical Oncology.
The Medical Community Reacts
According to Vamil Divan, an analyst at Credit Suisse, Incyte's impressive presentation generated major interest in doctors and investors alike. Incyte also confirmed earlier research that successfully paired epacadostat with Keytruda, another immunotherapy drug, without a significant increase in side effects.
Approval of the combined epacadostat-Keytruda cancer treatment is pending results of a final trial, expected sometime next year. Merck and Bristol-Myers, two of Incyte's initial collaborators, are working on development of their own IDO inhibitors.
Issels®: Pioneers of Immunotherapy for Cancer Treatment
IDO inhibitors are just the latest development in the field of immunotherapy, which boosts the power of your own immune system to fight cancer. Contact us to learn why Issels® has been in the forefront of using state-of-the-art immunotherapy to achieve long-term remission in patients of all ages with all forms of cancer.