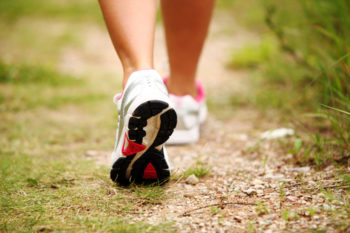 Have you made it a priority to watch your weight? According to the American Cancer Society (ACS), a healthy diet and physical activity are the most important cancer risk prevention factors after avoiding tobacco.
How much of a difference can nutrition and exercise make? The World Cancer Research Fund estimates that approximately 20 percent of all cancers diagnosed in the United States are related to excess weight and poor eating habits.
Reduce Cancer Risk with Healthy Habits
You may not be able to control your genetic makeup, but you can take steps to stay active and maintain a proper weight. Follow these guidelines offered by the ACS:
• Stay as lean as possible. If you're overweight, even a modest weight loss can improve your health.
• Get a minimum of 30 minutes of moderate physical activity at least five times a week.
• Limit "screen time" with TVs, computers, video games and other sedentary activities.
• Practice portion control during mealtimes.
• Minimize consumption of red meat and processed meat. Eat at least five half-cup servings of fruits and vegetables each day.
• Avoid refined grain food items, such as white bread and white rice, that have little nutritional value. Opt for barley, brown rice, oatmeal and other whole-grain products.
• Daily alcohol intake should be limited to one drink for women and two drinks for men.
Issels®: Incorporating Good Nutrition in Immunotherapy for Cancer
Our non-toxic, integrative programs include nutritional immunotherapy for cancer treatments to restore balance of vitamins and minerals that promote healthy functioning of the immune system. Contact us for more information about our specialized testing and treatment programs to meet your specific needs.