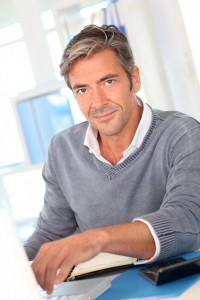 No two cases of cancer are identical, which makes it a challenge to determine what course of cancer treatment will be most effective. Scientists are excited about a new three-in-one blood test that may open the door for precision treatment of advanced prostate cancer.
Three-Pronged Attack on Prostate Cancer
Professor Johann de Bono, leader of the team at the Institute of Cancer Research in London, explained the three functions of the blood test:
• Blood samples are initially checked for the presence of mutated BRCA genes.
• Once treatment begins, DNA in the blood is monitored to determine whether or not the patient is responding.
• In the final step, blood is tested for signs of evolving cancer that is developing a resistance to drugs.
Overcoming Cancer's Defense Mechanisms
Cancer cells with BRCA mutations use a specific enzyme to repair themselves, making tumors resistant to treatment. Drugs called Parp inhibitors block these enzymes, causing cancer cells to die off. The blood test helps to identify patients who are most likely to respond to Parp inhibitors.
The Institute of Cancer Research's chief executive, Paul Workman, praised the test as a simple, inexpensive and non-invasive method to develop precision cancer treatment. While the test currently focuses on prostate cancer, Professor de Bono believes it can be adapted to other forms of cancer in the future.
Issels®: Matching the Right Treatment to the Right Patient
Specialized testing has long been a part of our integrative and personalized cancer treatment programs. Contact us to learn more about how Issels® uses cancer vaccines and other immunotherapy treatments to help patients of all ages.