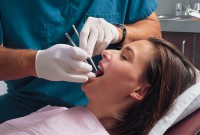 Once considered an old man's disease, oral cancer is making a comeback; only this time it's targeting young adults. Oral cancer is now the sixth most common cancer among young adults in their 20s and 30s. More than 40,000 Americans are diagnosed with oral cancer every year, according to the Oral Cancer Foundation. Oral cancer kills  one person every hour. More than 8,000 Americans will die from oral cancer this year alone. Even more frightening, only 57% of people diagnosed with oral cancer live past 5 years.
Oral cancer has a higher death rate than most cancers because it is difficult to detect, often fails to produce noticeable symptoms and is, therefore, usually not discovered until it has metastasized to a secondary location, typically the lymph nodes. The lag time between infection and discovery allows oral cancer to invade other local structures, resulting in additional forms of cancer. The risk of producing primary tumors at a second site is 20 times higher for oral cancer patients.
Oral cancer causes squamous cell carcinomas in 90% of cases. There are several reasons oral cancer has begun to attack people under 40.
The war against smoking has made chewing smokeless tobacco popular with young men and women. Marketed as a safe alternative to smoking, it may reduce lung cancer but is a leading cause of oral and pancreatic cancer.
Human papilloma virus No. 16 is the leading cause of oral cancer. Sexually transmitted between partners, it is also a leading cause of cervical cancer.
Alternative cancer treatments developed by Issels Integrative Oncology offer new hope for people with oral cancer.