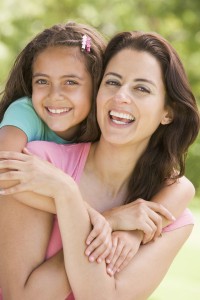 To their children, mothers seem to be all-knowing, indestructible, invulnerable, the steadying rock that is always there, providing both rudder and anchor for young lives learning to navigate the world. Children can always count on their moms when they need a snack, a playmate, a bandaid and especially a hug. Moms banish monsters from closets, keep cookie jars well stocked, read bedtime stories, listen to prayers and kiss us goodnight. Unless they have cancer, then everything changes for their children.
Mothers with cancer are vulnerable. They are no longer indestructible and must be treated with care for cancer makes their bodies fragile. As Susan Grubar, a mother struggling with terminal ovarian cancer, shared recently on the New York Times Well blog:
"With varying degrees of fearful awareness, such children intuit that the mother who comforts by murmuring 'I am here' will not always be there. Under such circumstances, how to safeguard childhood or adolescence from anxious vigilance and dread? Mothers often stand at the center of their children's orbit. How do you help children when mom has cancer?"
Grub is grateful that her ovarian cancer diagnosis came after her children were grown, though she mourns the fact that her relationship with her new grandson will be cut too short. Even as adults, she and her daughters are having difficulty with the finality of cancer and the separation anxiety terminal cancer produces. She is grateful that she has had many years to build precious memories with her daughters that will sustain them after she is gone — a gift many mothers with cancer are never given.
Next time: Leaving memories for your children