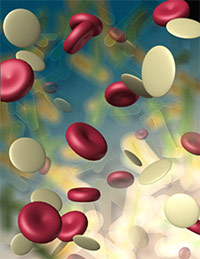 When you're undergoing cancer treatment, it demands the full attention of your immune system, leaving the door open for bacteria and other germs to sneak in. Use these food-handling tips to reduce the risk of disease and infection.
Food Preparation
Wash hands thoroughly with warm, soapy water before and after food prep and before eating.
Keep foods at the proper temperature. Hot foods should be above 140° F, while cold foods should be below 40° F.
Don't thaw proteins at room temperature. Use a microwave or place them in the refrigerator with a pan to catch drips.
Defrosted foods should be used right away and never refrozen.
Don't take chances. If any foods look, feel or smell strange, dispose of them immediately.
Wash produce under running water using a vegetable scrubber. Don't use soaps, bleaches or other chemical cleaning products.
Cooking
Always use a clean spoon when tasting foods while cooking.
Don't guess when cooking meat. Use a food thermometer for accuracy. Beef should be cooked to 160° F while poultry should be cooked to 180° F.
If your microwave doesn't have a turntable, rotate the dish a quarter-turn a couple of times during cooking to ensure that food is evenly heated.
When reheating leftovers, cover food with a lid or plastic wrap and stir frequently.
Immunotherapy at Issels®: Personalized Non-Toxic Cancer Treatment
Our immunotherapy treatment programs are designed to boost your immune system, allowing it to fight cancer naturally. Visit our website to learn more about how our state-of-the-art cancer treatment has helped many patients achieve long-term remission.