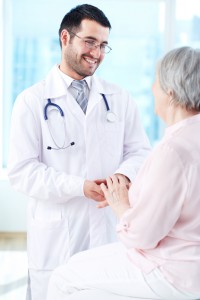 This past April actress Shannon Doherty, who was diagnosed with breast cancer nearly two years ago, announced via social media that she is in remission. But is that the same thing as "cured?" An expert from the American Cancer Society (ACS) takes a look at the meaning of the term.
Does "In Remission" Mean "Cured?"
Dr. Otis Brawley, chief medical officer of ACS, recently spoke to Fox News Health about understanding the true concept of "remission." Officially, when doctors examine a patient after cancer treatment and find no sign of the disease, he or she is declared to be in remission.
While remission is a major victory for cancer patients, it doesn't necessarily mean the end of the story. Their doctors continue to conduct regular exams watching for a relapse, which occurs when cancer returns.
Remaining Vigilant After Cancer Treatment
Initially, post-treatment exams are performed every few months, and become less frequent while the patient remains cancer-free. Even so, cancer can sometimes reappear after years of remission. Doctors suspect that such cases arise due to cancer still being present, but too small to be detected.
Chances of a relapse are often affected by the type of cancer and the stage it was in at the time of diagnosis. Cancer patients can also enter partial remission when the size of the tumor decreases by at least 50 percent.
Immunotherapy Cancer Treatment at Issels®
Our personally tailored immunotherapy programs have helped numerous patients diagnosed with all forms of cancer achieve long-term remission. Contact us for more information about our special testing methods and integrative treatment protocols.