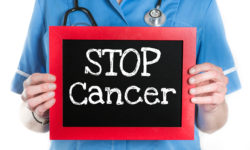 Two years ago, then-Vice President Joe Biden was inspired by the death of his son to launch a "moonshot" campaign for cancer treatment research. Today, Sen. John McCain's battle against brain cancer has once again turned a spotlight on the disease.
Vice-President Biden Joins the Fight Against Cancer
In May 2015, Biden's eldest son Beau succumbed to glioblastoma, an aggressive form of brain cancer. The same disease claimed the late Sen. Edward Kennedy in 2009.
Four months after his son's death, Biden called off his expected run for the presidency in order to launch a campaign of a different sort. Biden and his advisors joined forces with the American Association for Cancer Research to ramp up the search for a cure.
Brain Cancer Remains in Public Awareness
Arizona Sen. John McCain, a one-time Presidential candidate himself, was diagnosed with glioblastoma this past July. The diagnosis added another layer of drama when McCain returned to Washington, D.C. a week later and cast the deciding vote against a proposed repeal of the Affordable Care Act.
Last month, McCain appeared on CNN's State of the Union to discuss his illness. The senator told host Jake Tapper that he would be undergoing an MRI the following day, adding that advancements in cancer treatment gave hope for his prognosis.
State-of-the-Art Immunotherapy from Issels®
Researchers have been making astounding breakthroughs in cancer treatment. Issels® has long been a leader in the use of personally tailored immunotherapy programs to successfully treat patients with all forms of cancer.
Contact us for more information about our integrative, non-toxic treatments such as cancer vaccines and NK cells.