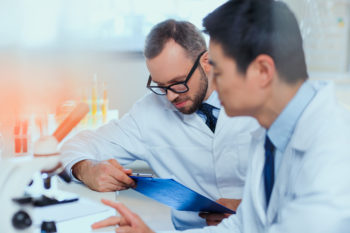 Bacteria is generally considered to be the cause of disease and infection, but many varieties have beneficial properties. Scientists are discovering that "good" bacteria living inside of us can have positive implications for cancer treatment.
How Can Bacteria Be "Good?"
The microbiome is a collection of microscopic organisms found inside our bodies, primarily in the gut. These organisms play a role in the digestive process and help to regulate the immune system.
Researchers in France and the United States conducted separate studies involving the microbiome of cancer patients. All participants were receiving immunotherapy treatment, which boosts the ability of the immune system to fight cancer cells.
The Relationship Between Gut Bacteria and Cancer Treatment
The team at the Gustave Roussy Cancer Campus in Paris studied 249 patients with lung or kidney cancer.
– Participants who had taken antibiotics, which disturb the microbiome, were more likely to experience tumor growth, even during treatment.
– A bacteria species known as A. muciniphila was found in two-thirds of patients who responded to immunotherapy, as opposed to only one-third of those who did not.
At the University of Texas MD Anderson Cancer Center, a team analyzed the microbiome of 112 patients with advanced melanoma.
– Patients who responded to cancer treatment were found to have a more rich and varied microbiome than those who didn't.
– The composition of the microbiome also appeared to be significant, as higher levels of certain bacteria were associated with positive responses while others had negative impacts.
Innovative Cancer Treatment at Issels®
Our immunotherapy programs focus on cancer cells as well as the internal environment that supports them. Contact us for more information.