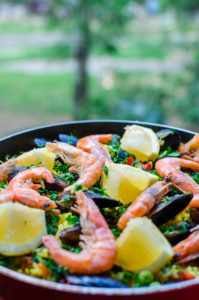 Even after successful cancer treatment, your body is not at full strength. It may be more difficult for your immune system to fight foodborne illness than it was before treatment.
Use these tips to reduce the risk of food poisoning both during and after immunotherapy and other cancer treatment programs.
1. Practice "Safe Shopping"
– Don't buy food products stored or displayed in areas that appear unsanitary.
– Don't buy produce with bruises or other visible damage.
– Don't buy cans that are dented or showing bulges.
2. Follow Careful Prep and Clean-Up Methods
– Rinse and dry all fresh fruits and vegetables.
– Wipe the tops of cans thoroughly before opening.
– Wash hands with soap and hot water for at least 20 seconds before and after prep. Use the same method to clean all dishes and utensils.
– Disinfect cutting boards and kitchen surfaces using a mixture of one teaspoon of unscented liquid bleach with a quart of water.
3. Watch Food Temperatures
– Always use a food thermometer with meat and poultry to make sure products are sufficiently cooked.
– Perishable foods should be refrigerated or frozen within two hours of buying or cooking, and even more quickly during periods of hot weather.
– Thaw frozen food in the refrigerator and cook immediately afterwards.
Nutritional Immunotherapy at Issels®
Scientists have found a link between poor nutrition and cancer development. Our individualized cancer treatment programs include methods to restore nutritional balance and promote optimum functioning of the immune system.
Contact us to learn more about nutritional immunotherapy and other integrative immunotherapy programs at Issels®.