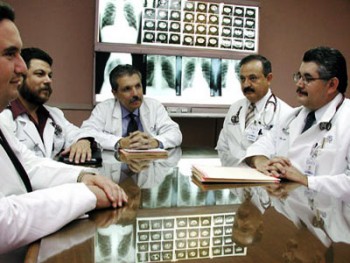 Approximately 40 percent of lung cancer cases in the United States involve an aggressive form called adenocarcinoma. Researchers recently identified a vital step in this cancer's development that could be the key to successful early cancer treatment.
The Path from Benign to Malignant
Lung adenocarcinoma gets its name from adenomas, which are a form of benign tumors. Scientists believe that lung adenocarcinomas begin as adenomas that transition to the more aggressive type.
A team of researchers at MIT's Koch Institute for Integrative Cancer Research set out to study the process behind the change from benign to malignant. According to lead author Tuomas Tammela, at some point the tumor cells begin acting like stem cells, allowing for rapid reproduction.
Flipping the Switch
Wnt is a signaling pathway that maintains cells in a stem cell-like state. The team focused on the activity of this pathway in a group of mice programmed to develop lung adenomas that were likely to progress to adenocarcinomas.
While they found that the Wnt pathway was not active in the adenomas, about five to 10 percent of the cells turned it on during the transition. When the mice received cancer treatment that interfered with the Wnt proteins, tumor growth was halted and the mice lived 50 percent longer.
Innovative and Effective Cancer Treatment at Issels®
Our non-toxic, integrative immunotherapy programs have helped cancer patients of all ages at every stage of the disease. Visit our website to read and hear testimonials from patients who have been successfully treated at Issels® for carcinoma, leukemia, breast cancer and all other forms of tumors.